Streamside ~ Middlewood, Nr. Launceston, Cornwall.
Client : Private.

Streamside is a converted barn sat in the quiet hamlet of Middlewood in Cornwall, originally used for cattle, it dates back to sometime during the early 1800's. As its name suggests, 'Streamside' is sat just a few feet away from a small stream which flows alongside it and then makes its way down to the river Lynher.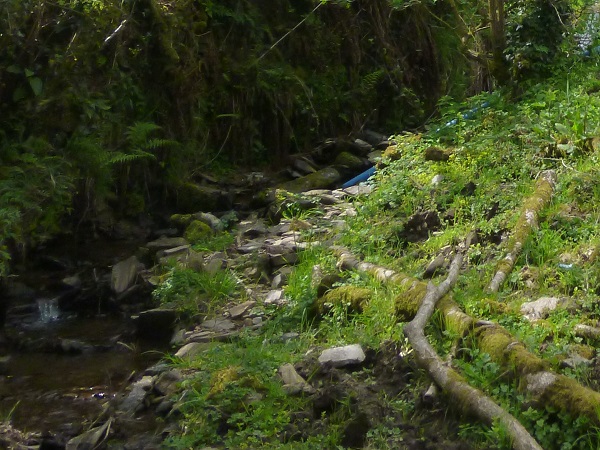 Continual periods of high rainfall had caused the stream to erode away a section of its bank, raising concerns that flooding would occur in the field it flowed through causing further damage.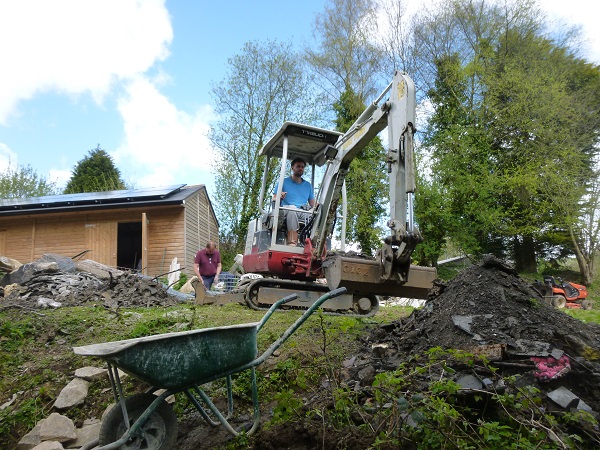 A small mini-digger was used to remove stone and debris which had fallen into the water course and we also dug back the bank in preparation for 'Gabion Baskets' which would to be set in to reinforce the stream's bank.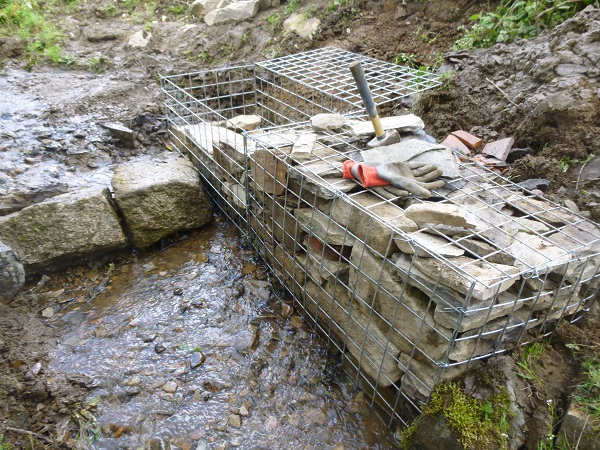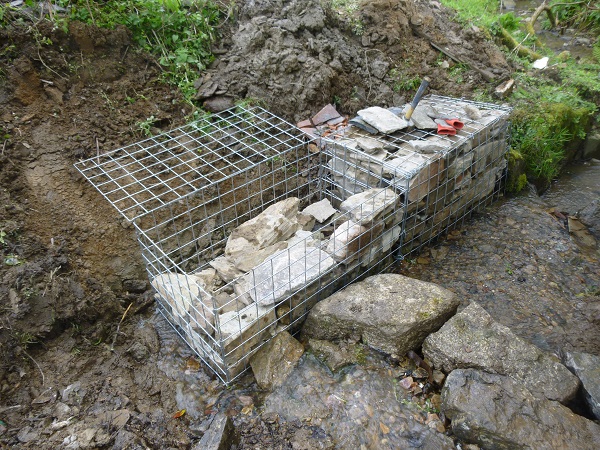 Gabion baskets are box cages made from steel, in this case stainless steel, and they come in various grades and sizes. These cages are set down on the stream bed and stone is placed inside. It's important to lay the stone inside similar to techniques used in dry stone walling, and not just throw the stone in any which way. This will give each cage much more stability. As each cage is filled, the lid is closed down and tied with wire. Then another cage is set into place next to it and they are tied together. The process is replicated along the length of bank to be repaired. This type of construction also creates a good habitat for insects and wildlife that live along the banks. To repair this bank only one cage in height was required, but if you need to go higher, place more cages on top but ensure they are half bonded, just as you would when building a brick wall. Also the height will determine how thick the wall needs to be.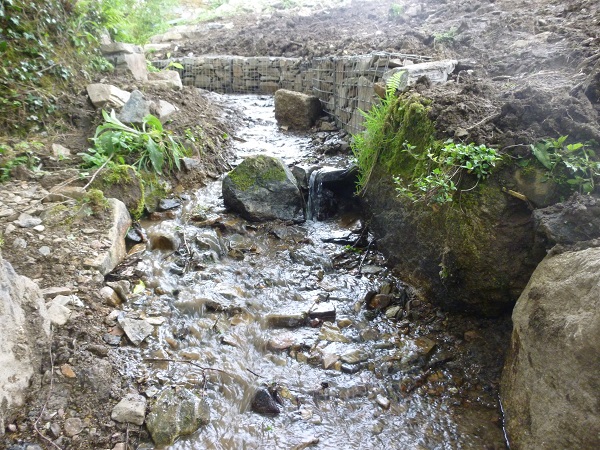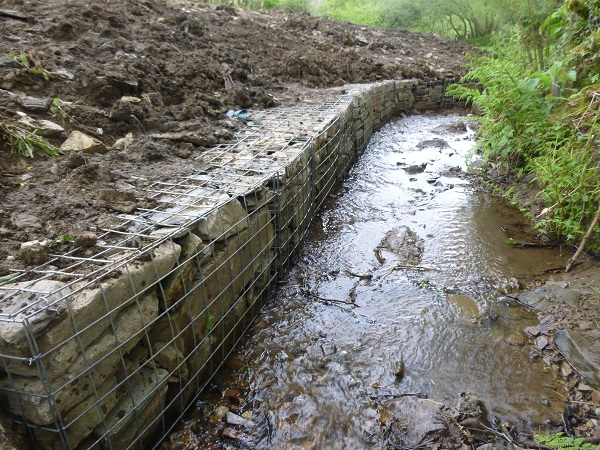 Once the baskets are in place and filled with stone the back is infilled with earth. This is a cost effective way to repair stream and river banks. The running water will not effect the construction as you work, unlike using mortars which usually involve temporarily re-directing the flow of the stream or river until the work has been completed.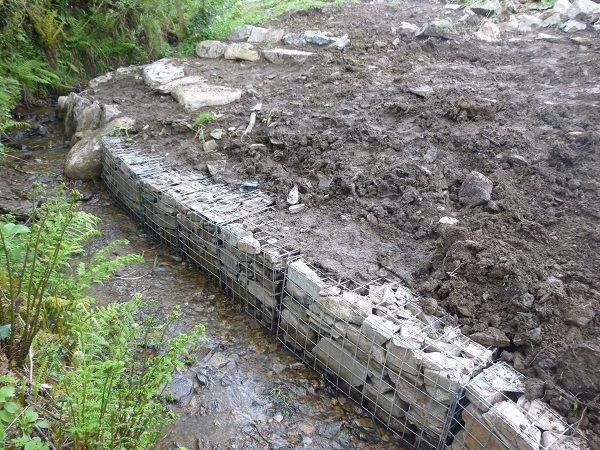 The life expectancy of gabions depends on the lifespan of the wire, not on the contents of the basket. The structure will fail when the wire fails. Galvanized steel wire is most common, but PVC-coated and stainless steel wire are also used. PVC-coated galvanized gabions have been estimated to survive for sixty years. Some gabion manufacturers guarantee a structural consistency of fifty years.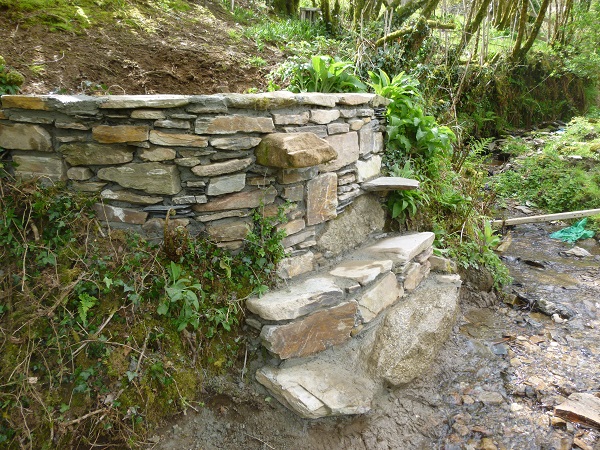 On the opposite side of the stream from the gabion baskets, we re-built a small section of wall which had also collapsed into the stream, some steps and styles were added to gain access up onto the opposite bank.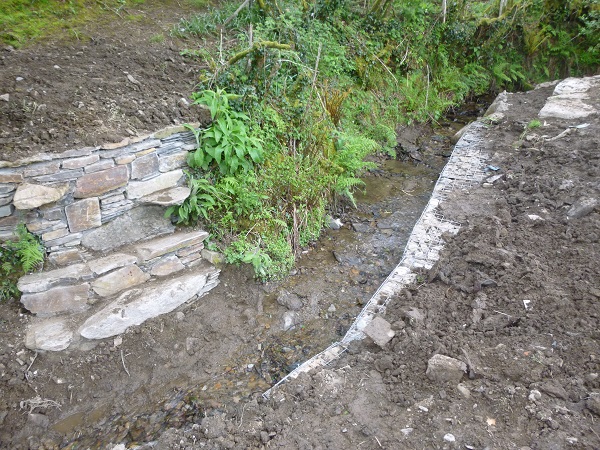 Gabion Baskets are not new, they've been around for millennia in one form or another. The Egyptians used a version made from woven 'sedge', a grass like plant, and filled them with sludge, similar to modern sandbags these were then used to strengthen the banks of the River Nile. Originating from the Italian word 'Gabbione' meaning 'big cage', Leonardo da Vinci designed a type of 'Gabion' called a 'Corbeille Leonard' (Leonard Basket), and this was used for the foundations of the San Marco Castle in Milan, Italy.