Piran House ~ Downderry, South-East Cornwall.
Client : Private.

Piran House is a new development situated in the village of Downderry on the South-East Cornish coast.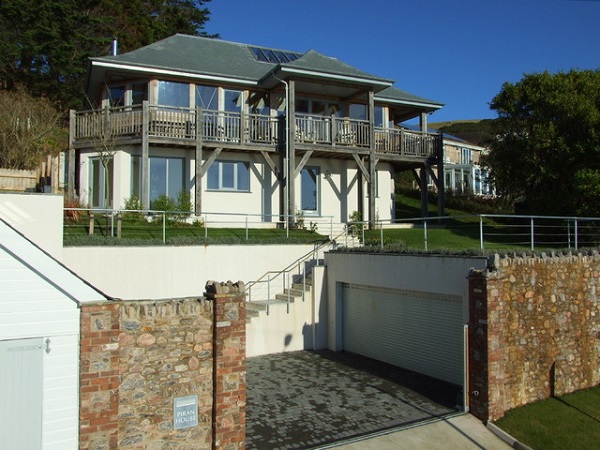 The name 'Piran' or 'Pyran' derives from St. Piran, a 5th century Cornish abbot and saint, supposedly of Irish descent. He is the patron saint of tin-miners and also generally regarded as the patron saint of Cornwall, although there are a couple of other saints who lay claim to this title. As legends go, the heathen Irish tied St. Piran to a mill-stone and rolled it over the edge of a cliff into stormy seas. The sea immediately became calm, and the saint floated safely over the water to land upon a sandy beach in Cornwall. His first disciples are said to have been a badger, a fox and a bear!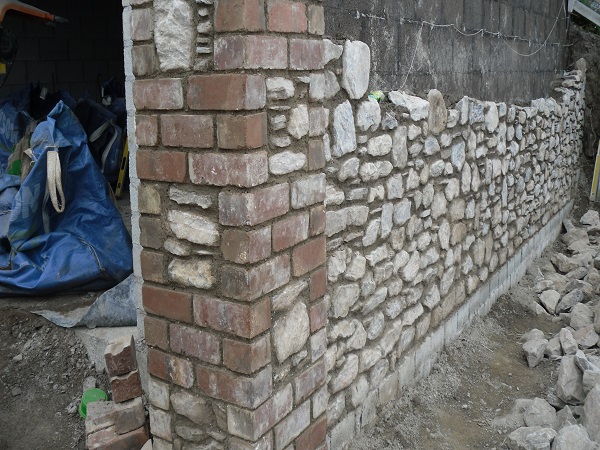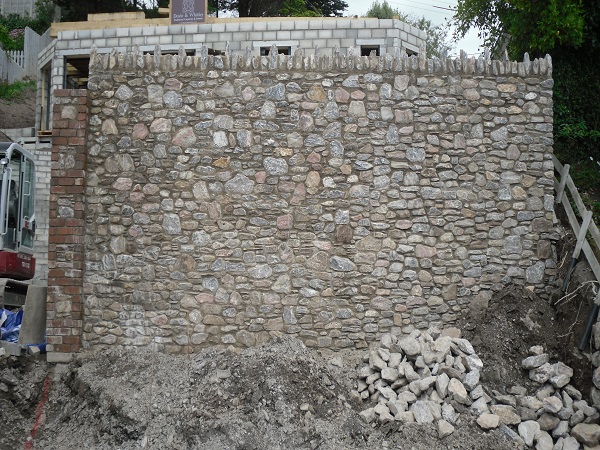 The developer of this new site asked us to construct the boundary walls to the property.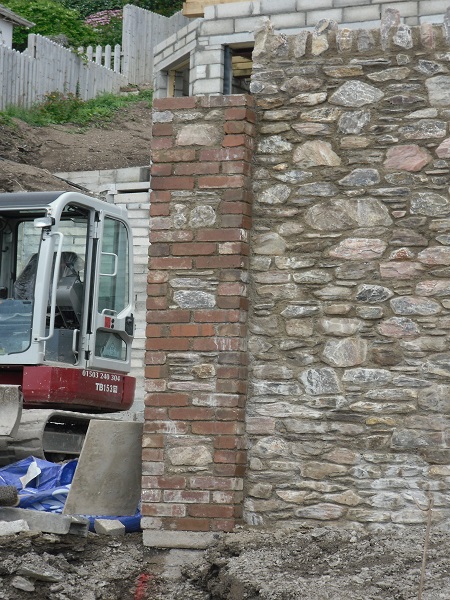 The random rubble wall itself was constructed using limestone from Moorcroft quarry in the neighbouring county of Devon, along with a natural lime mortar. As this is a coastal environment NHL5 was the preferred choice of lime as it is much more durable against the sea air and salts. Reclaimed imperial sized bricks were used to build up the pillars either side of the entrance.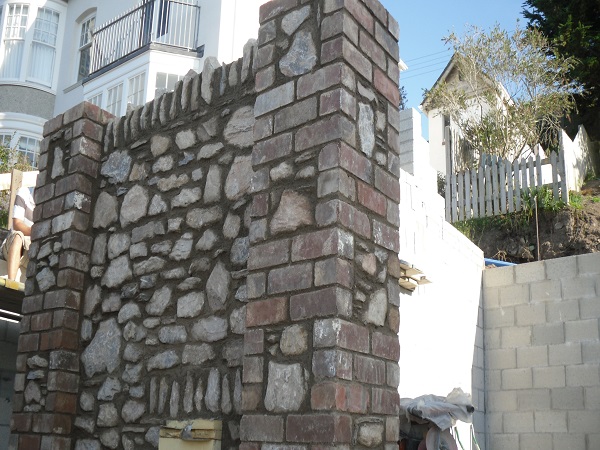 A 'Cock and Hen' style coping was constructed along the tops of the new walls.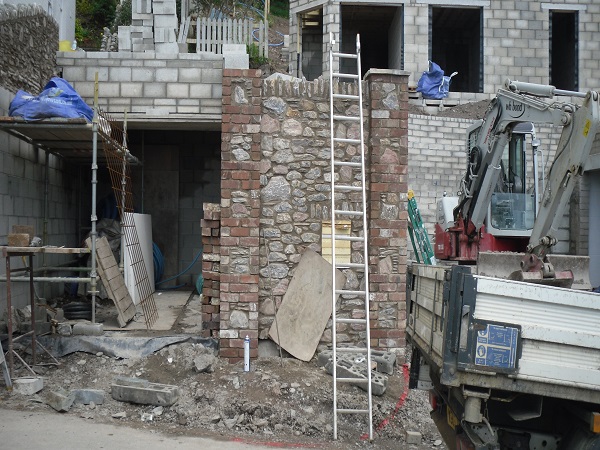 Part of the new building works included to re-build a section of the neighbouring party wall, although the original stone had been set aside for us to re-use. Much of this stone consisted of slate and large beach stone in the shape of pebbles. This wall had to be built before the new garage could be completed.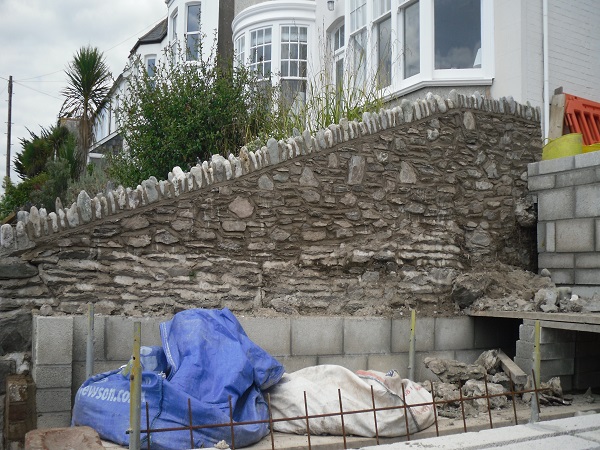 Once the pillars were up to height suitable caps were put into place.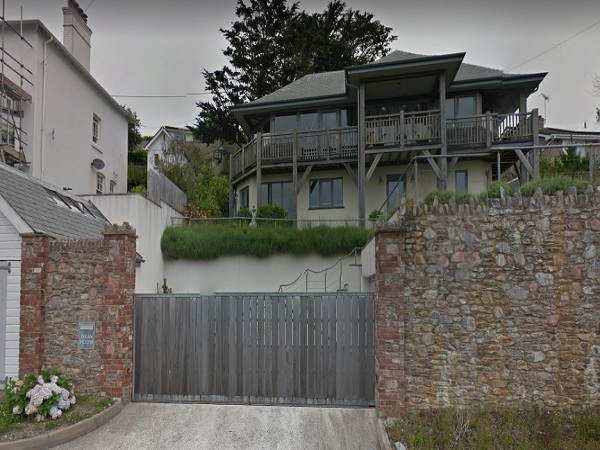 On completion, the external ground works were finished off and a slate name plaque fixed to the new wall which doubled as a letterbox, and electric gates installed.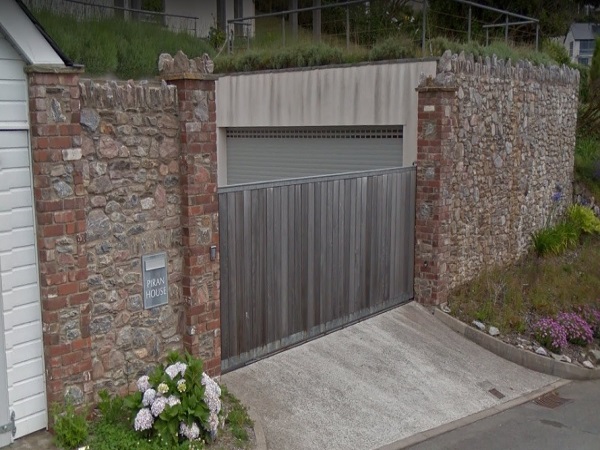 An interesting fact in Downderry is the only known example of a 'Cursus' earthwork in Cornwall is situated behind the village in the fields near Triffle farm. A 'Cursus' is a Neolithic structure and represents some of the oldest Prehistoric monumental structures in the British Isles, built between 3400 B.C. to 3000 B.C. they resemble ditches or trenches and vary from fifty yards up to almost six miles in length. It is traditionally thought that Cursuses were used as processional routes.