Sparke's Memorial ~ St. Andrew's Church, Plymouth.
Client : Diocese.

The memorial to John Sparke, Elizabethan Lord mayor of Plymouth between the years of 1583 – 1584 and again in 1591.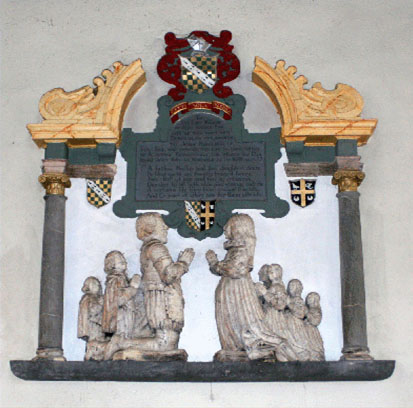 This memorial plaque is on the walls of the 15th century St. Andrew's church in Plymouth. The inscription reads as follows.
To the loving memory of John Sparke Esq late of this town and Deborah, his wife, daughter to John Rashleigh of Foy, Esq who departed this life in expectation of a joyful resurrection the March the 17th 1640 aged 66, she November the 1st 1638 aged 57.
A father, mother and two daughters deere,
In silent earth are sweetly lodged heere,
Still of age and two in infancye,
Denotes to all both olde and younge must die,
A vertuous life they lived amongst friends,
And crownes of glory now for them attends.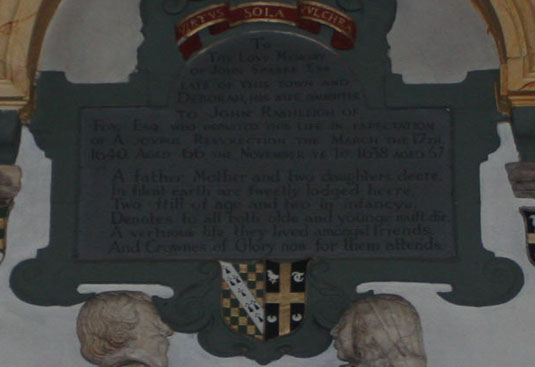 The crest in the centre is the amalgamation of both coats of arms belonging to each family.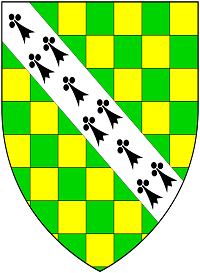 The Sparke family crest.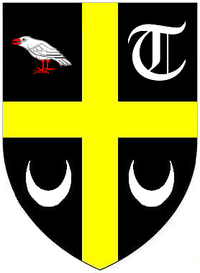 The Rashleigh family crest.
Damaged by fire during the Blitz, the Diocese asked us to clean the smoked stained alabaster figures, the limestone base and columns and re-paint the heraldic motifs and other sections to their original colours with natural lime-based paints. John Sparke who had sailed with Sir John Hawkins, a famous seafarer and slave trader, was probably the first man to document the potato and tobacco in English which he had seen on his travels in the West Indies with Hawkins. He was a close friend of Sir Walter Raleigh and of Sir Francis Drake. He told his friends of his discovery and, on his next voyage, Sir Walter Raleigh brought back the potato and tobacco and it was Raleigh who was then credited with their discovery. Notable worshippers here at St. Andrew's apart from Drake and Raleigh include the Pilgrim Fathers, Catherine of Aragon and even Pocahontas.